The Japan-America Society of Washington DC (JASWDC) successfully held the 29th National Japan Bowl, otherwise known as Digital Japan Bowl II, on Thursday and Friday, April 8-9, 2021.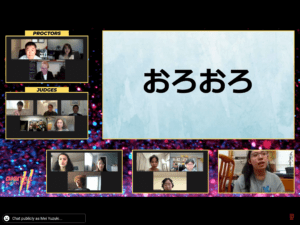 The championship round was live-streamed on YouTube from 6-9PM EDT on Friday, April 9 and reached an audience of over 2K viewers across nine different countries. Japan Bowl Honorary Patron Her Royal Highness Princess Takamado and other Japan Bowl supporters made appearances during the championship livestream, including Deputy Assistant Secretary of State Marc Knapper, Ambassador Tomita Koji, and Olympic Bronze Medalist Mirai Nagasu.   
This year's competition welcomed a total of 202 students from 36 schools covering 14 different states. The students competed across three levels in a series of preliminary rounds, resulting in an exciting Friday evening championship round. Students attended live and recorded workshops including origami, soran bushi dance, calligraphy, tea ceremony, and an Edamame Champ program hosted by Table For Two, USA. Organizations such as JET, Japan-America Student Conference (JASC), Ritsumeikan University, Globalize DC, and Kizuna Across Cultures hosted virtual expo booths, which provided a "virtual space" for students to learn about opportunities to apply their knowledge and passion for Japanese language, culture, and history. 
This year, global health conditions permitting, the Level IV winners will travel to Japan as part of a JASWDC partnership with the Government of Japan's Kakehashi Project. This trip provides an important opportunity for JASWDC to promote understanding between Japanese and American people at the grassroots level, and to contribute to the next generation of our bilateral relationship. 
About the National Japan Bowl 
The National Japan Bowl is America's premier Japanese-language competition, now in its 29th year. Each spring, the Japan-America Society of Washington DC welcomes 200 of the country's top high school Japanese language students to the nation's capital for the competition. The National Japan Bowl is a high-level, high-intensity competition that tests students' knowledge of Japanese language and of the culture, history, and social context that bring the language to life. 
Since the program's inception in 1993, Japan-America Society of Washington DC has supported the creation of twenty regional Japan Bowl® competitions across America and around the world, giving the program a global impact. 
The National Japan Bowl has enjoyed support and encouragement over the years from the United States-Japan Foundation; the Embassy of Japan; the Japanese Ministry of Foreign Affairs and the Ministry of Education, Science and Technology; the Japan Foundation; and the American Association of Teachers of Japanese. 
Japan Bowl Website: https://japanbowl.org/ 
About Japan-America Society of Washington DC 
Drawing on the unique resources of the nation's capital and our long history, JASWDC promotes friendship and understanding between Americans and Japanese through diverse programming that spans the educational, cultural, business, and policy spheres.  
Visit our website: https://jaswdc.org      
Like us on Facebook: @JASWDC  
Follow us on Twitter: @jas_wdc  
Follow us on Instagram: @jaswdc