"Government-to-government relations are only one side of the picture. Equally, if not more important in tying our countries closely together, are the relations at private levels in the economic, cultural, and other fields."

Nobusuke Kishi, former Prime Minister of Japan, 1957
---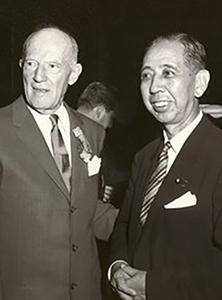 Washington has been the center of the US-Japan relationship for over 150 years. But it was only in 1957 that a group of US State Department officers got together privately with friends at the Japanese Embassy and established the Japan-America Society of Washington DC. Their goal was to add a personal face to Washington's official relationship with Japan and create a people-to-people organization.
The Society's first official act was to host the new Prime Minister of Japan, Nobusuke Kishi, on June 22, 1957 (photo). Stressing the importance of people-to-people ties, Prime Minister Kishi said, "You will agree with me that government-to-government relations are only one side of the picture. Equally, if not more important in tying our countries closely together, are the relations at private levels in the economic, cultural, and other fields."
Despite its historic ties to official Washington, the Society has never forgotten its purpose to be a non-partisan educational organization dedicated to promoting friendship and understanding between Japan and the six million people of the greater Washington DC area.
Public Affairs
The Society has hosted many senior officials of the US and Japanese Governments, business leaders, and members of the Japanese Imperial Family. Many of Japan's former Prime Ministers have spoken at our programs, as well as famed Japanese business leaders such as Dr. Shoichiro Toyoda of Toyota and Sony's founder Akio Morita. Almost every US Ambassador to Japan in the postwar era has spoken before the Society indeed, many of them have served as our President or Chairman.
Cultural Affairs
The Society has introduced all forms of Japanese culture to Washington DC audiences. This includes traditional performing arts such as Kabuki, Noh, and Bunraku, and Japanese traditions such as otsukimi (moon viewing) and haiku. More recently we have introduced Japanese popular culture – anime, manga, and J-Pop music. We have organized classes in ikebana, tea ceremony, and sushi-making, and held sake tastings. We also run the area's oldest and largest Japanese language school for adults.
Sakura Matsuri – Japanese Street Festival
This Japanese Street Festival began just four years after the Society's founding as a small "friends and family" bazaar. Today it is the largest one-day display of Japanese culture in the nation. Held each April as a premier event of the National Cherry Blossom Festival, it stretches for six blocks through downtown Washington.
Educational Outreach
One of the Society's most vital tasks is to engage the next generation of Americans by introducing them to Japanese language & culture. In addition to the Society's study in Japan scholarship opportunities, JASWDC's Japan-in-a-Suitcase programs sends volunteers into local schools and libraries to introduce students to life in Japan.
Japan Bowl®
The National Japan Bowl is a two-day Japanese language smack-down which tests the achievements of high school students studying Japanese language by quizzing their knowledge of traditional and modern Japanese culture and language.
First held in 1993 as a contest for high school students in the greater Washington, DC area, it now attracts students from across the nation, and beyond.
Grassroots Exchange
The relationship between the United States and Japan has undergone many changes in the past 50 years, but our mission has not changed. We will continue to reach out at the people-to-people level to promote greater understanding of Japan and its culture, society and economy, and to strengthen the relationship between Japanese and American peoples.
---
Annual Reports
To view our 2015 Annual Report, click here.
To view our 2016 Annual Report, click here.
To view our 2017 Annual Report, click here.
To view our 2018 Annual Report, click here.
Learn more about our:
Current Staff >>
Board of Trustees >>
Financial Information >>