Discover the origins of Minoyaki pottery in our next #JapanInDC feature highlighting a charming store known as Tokiya Japan. Owner Miyajima Tomomi, imports beautifully handcrafted Japanese pottery, kimono, and handicrafts from her hometown Toki, a small village in Gifu prefecture!
Tokiya Japan's History
Before Tomomi opened Tokiya Japan, she worked in the Education and Human development field, teaching students with disabilities. Her career path shifted when she immigrated to the U.S, where she was inspired to become a small business owner. Through this pursuit she has been able to achieve her lifelong dreams while also giving back to her hometown.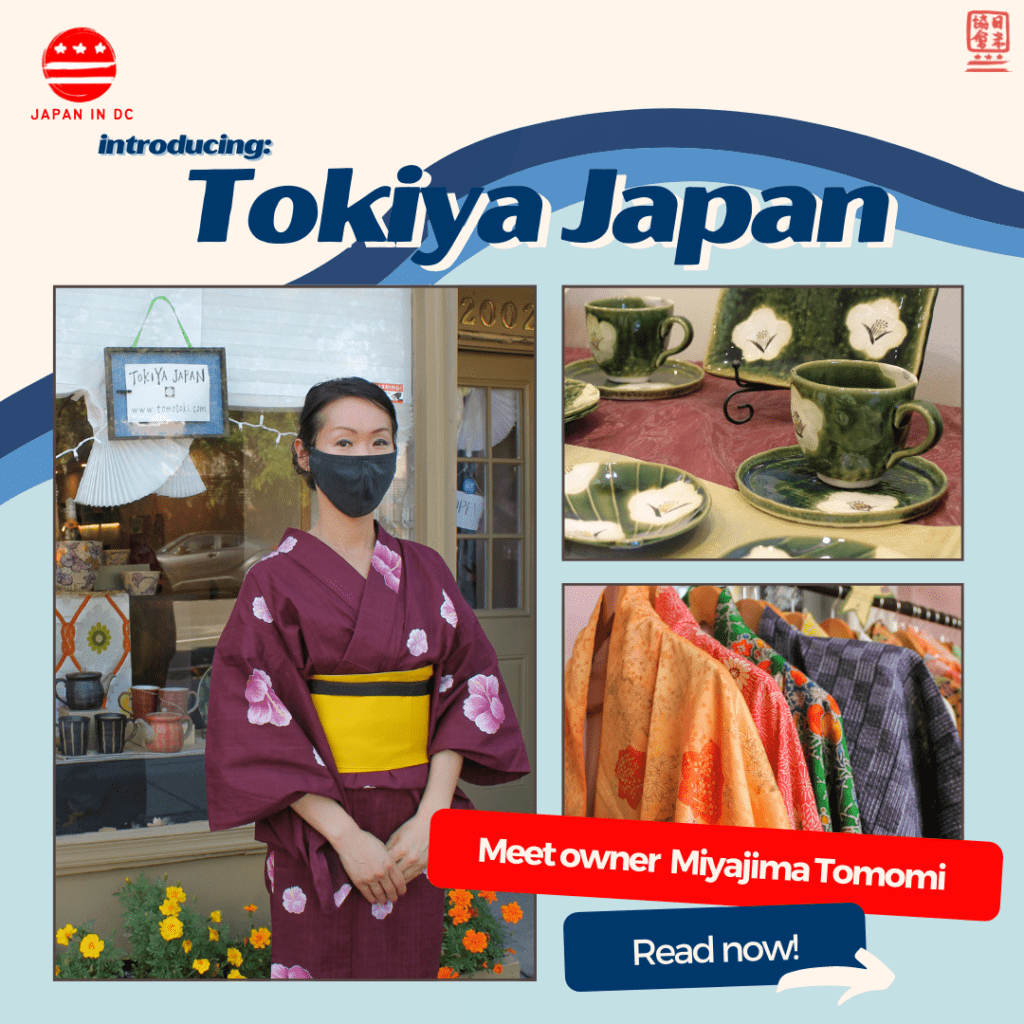 "It's hard to believe that such a place exists in 21st century Japan…We don't have anything else other than good soil, minerals, and clay…So it's like a gift from nature." -Tomomi
The Art of Minoyaki pottery has been part of her family history for generations; Her brother, a 7th generation potter- looks after the family business and cares for the elderly. Tomomi says, "It was a big responsibility for him, but he's still there protecting the house, family business, and looking after the graves."
In honor of her family's business, she named her store after the village. The name Toki coincidentally translates to "pottery" in Japanese.
Minoyaki Pottery
Minoyaki pottery is the largest producer of Japanese domestic pottery, making up 70% of ceramics in Japan. Although it is difficult to define, diversity is a significant characteristic of minoyaki pottery because it can be everything and everywhere. Tomomi believes that "Minoyaki starts with traditional tea bowls and sake ware that were developed during the 16th century when tea ceremony culture flourished…". Throughout its history, recognizable forms of glazing appeared, including Oribe, Shino, and Setuguro-a variety of glazes characterized by their reactive color or firing technique. Most craftsmen decorate the pottery with natural motifs, like plants and flowers, but you'll also see modern geometric patterns. One of Tomomi's favorite Minoyaki pottery styles displays white Japanese camellia blossoms, Tsubaki – a symbol of resilience in Japanese culture.
Inside Tokiya Japan
The pottery inside Tokiya Japan is imbued with a rich history, showcasing 1300 years of tradition, apprenticeship, passion, and craftsmanship. Tokiya offers a range of pottery pieces, from modern geometric teapots to traditional Oribe glazed dinnerware. An expertly embroidered white and gold kimono decorates the wall of the establishment, its embellishments depicting the skillful craftsmanship of Toki's artisans.
An eye-catching array of colorful Kimono accessories and yukata fabrics display traditional Japanese fashion, as they offer weekly Yukata try-on's for visitors to enjoy. You will find pottery pieces ranging from high-end sake-ware to affordable jewelry dishes and dinnerware. Each corner highlights a different artist from Gifu prefecture. The store funds, promotes, and highlights Gifu artists and gives back to their interconnected craftsmanship.
Recyclable Pottery
Tokiya Japan prioritizes creating recyclable and sustainable clay pieces by using chemical-free glazes. Another way they practice sustainability is through their Kaiseki service, a fancy multi-course Japanese dinner served in traditional dinnerware from Gifu. Customers can keep the dinnerware at a discounted price, or they can return the dishes, so they can sterilize and reuse them, reducing plastic waste. The brand's environmentally-friendly values reflect the nature of minoyaki pottery as a recyclable material that can be crumpled and discarded into the ground – enriching the earth's soil even after its use.
Services
In celebration of Japanese art & culture, Tokiya Japan hosts various events such as Yukata try-on's, tea ceremonies, donabe cooking lessons, shidashi bento, sake tasting, and more! They also host art exhibitions and attend art fairs. Learn more here.
Contact
Instagram – @tokiyajapan
2002 17th St NW, Washington, DC 20009