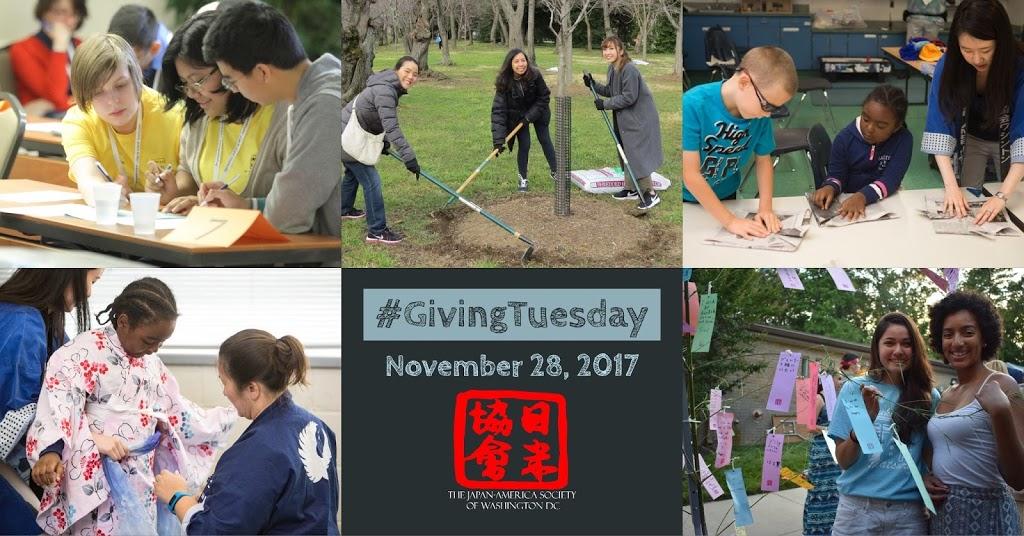 #GivingTuesday might just look like another hashtag, but it's actually a worldwide campaign to encourage everyone to donate whatever they can to their local nonprofits and community organizations. Here at the Japan-America Society of Washington DC, we're hoping that you'll use this opportunity to help us advance the U.S.-Japan relationship at the grassroots level.
Here are some ideas to get you started:
1. Your time! Sign up to be a Japan-in-a-Suitcase volunteer. JiS volunteers are contacted not only for school visits, but for outreach activities and local festivals. You can also volunteer for Sakura Matsuri or Japan Bowl in the spring, where we need literally HUNDREDS of volunteers.
2. Your language skills! We are always looking for Japanese teachers in the area (native proficiency preferred). If you'd like to teach Japanese on a part-time basis, let us know. Or, if you want to hold a Japanese culture-themed workshop with us, we'd love to hear your ideas.
We're also looking for volunteers for a future conversation night suitable for all levels, so if you're fluent in Japanese but not necessarily native (you can comfortably hold a conversation), this would be a great opportunity for you.
3. Your resources! Do you have children or work at a school, library, or academic organization in this area? Request a Japan-in-a-Suitcase visit. Or if you work at a local museum or other cultural organization/think tank and want to collaborate, we are always open to partnerships.
4. Your money! Our 60th Anniversary Auction is online and items have gone on sale for Black Friday/Cyber Monday. Although the auction is winding down, there are still many great pieces – art, vacations, and other unique experiences – you can snag for holiday presents!
You can also donate here and have the option of choosing a specific program for your donation to fund.
As a membership Society, we're an organization built by the people and the communities they come from. If you want to donate ideas or feedback about what we're doing in addition to your time/money/efforts, we gladly welcome that as well. You can always e-mail us at info@jaswdc.org.