Date: October 20, 2021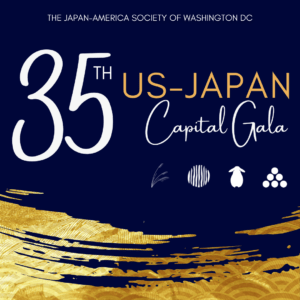 Venue: Hillwood Estate
The Society's US-Japan Capital Gala (previously named Annual Dinner) celebrates the relationship between the United States and Japan and the enduring friendship between the American and Japanese people. Revenue from the event supports our Society's year-round work promoting the grassroots ties that form the bedrock the U.S.-Japan bilateral relationship.
The 2021 US-Japan Capital Gala will be held on Wednesday, October 20, from 6:00 p.m. at the Hillwood Estate, and will feature guest appearances by Ambassador Tomita Koji and Senator Bill Hagerty (JASWDC Honorary Chairman). The Gala reception and Silent Auction will also feature premium sushi bento from Sushi Ogawa and Sushi Taro, sake from local brewers, and performances by the Toho Koto Society & Mark H. Taiko.
For more information, please visit the 2021 US-Japan Capital Gala's page.
If you are interested in making a donation of items or certificates to the Silent Auction, please visit the contact Ms. Yuko Smith at [email protected] using the subject line, Silent Auction.