会津の冬/Winter in Aizu (Elias Martin Collection)
A talk by:
Rhiannon Paget, PhD
Curator of Asian Art at The John & Mable Ringling Museum of Art
Moderated by:
Frank Feltens, PhD
Japan Foundation Assistant Curator of Japanese Art, National Museum of Asian Art
Thursday, April 29, 8-9:30PM EDT
Friday, April 30, 9-10:30AM JST
Born in the snow country of Fukushima prefecture, Saitō Kiyoshi (1907–1997) emerged as one of the most internationally recognized Japanese print artists of his generation. While his oeuvre encompasses a wide variety of subject matter, Saitō's largest body of work was Winter in Aizu — a series of stark, monochromatic winter landscapes and village scenes of his birthplace. Through a consideration of the Aizu series and other designs, this talk will discuss Saitō's skilful negotiation of his medium, his shifting approach to design, and his sense of place and identity.
JASWDC Member Regular Ticket: FREE
Non-Member Regular Ticket: $10
JASWDC Member Sake Ticket*: $37
Non-Member Sake Ticket*: $49
*D.C. Sake cō has selected a sake from Fukushima Prefecture, Daishichi "Kimoto Honjozo"(720mL), which is available in limited supply as part of the "sake ticket."
Pick up window: Sake is available for pick up from a designated location in downtown DC. You will be notified of the pick-up location and date upon registration.
**Registration deadline for sake combined tickets: Saturday, April 25.
About Daishichi Kimoto Honjozo Sake
The Daishichi brewery, from Fukushima prefecture is one of the very few Brewery that produces all of their sake using the kimoto method. Kimoto method is traditional way of making sake, involving long wooden "oars" or paddles that are used to mash the rice. This tremendous amount of care given during the brewing process brings richness and umami driven flavor to this sake. Enjoy this sake in room temperature.
This event is part of JASWDC's Beyond Tokyo series in Sakura Matsuri 2021 Year in Bloom. The Beyond Tokyo series promotes regional prefectures in Japan and introduce their culture. The event is also part of the Richard J. Wood Art Curator Series and is sponsored by NAJAS and the Japan-United States Friendship Commission.
Rhiannon Paget, PhD

Curator of Asian Art at The John & Mable Ringling Museum of Art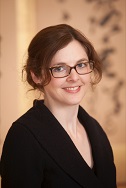 Rhiannon Paget is the curator of Asian Art at the John & Mable Ringling Museum of Art, where her current exhibition is Saitō Kiyoshi: Graphic Awakening. She received her doctorate from the University of Sydney, Australia. Prior to joining the Ringling, she co-curated the exhibition Conflicts of Interest: Art and War in Modern Japan. She has published research on Japanese paintings, woodblock prints, erotic art, textiles, board games, and propaganda. 
Frank 
Feltens, PhD

Japan Foundation Assistant Curator of Japanese Art, National Museum of Asian Art 
The Japan Foundation Assistant Curator of Japanese Art. Frank Feltens became the Japan Foundation Assistant Curator of Japanese Art at the Smithsonian's National Museum of Asian Art in 2017. He holds a PhD in Japanese art history from Columbia University (2016) and has published and lectured widely on a range of topics in Japanese art. His exhibitions have examined the intersections between Japanese prints and photography, the role of China in modern Japan, and Katsushika Hokusai.