Individual Obi Tying Classes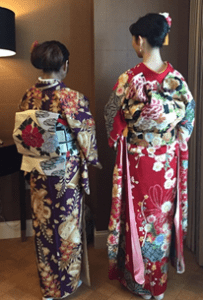 Thursday, October 17, 24, 31, November 7, December 5, January 16 2020
(6 classes)
Time: 6pm-7:30pm
@JASWDC's Office
$50 per class for JASWDC Members or
$60 per class for Non-JASWDC Members
Languages: Japanese/English
Classes are limited to 6 individuals
Minimum enrollment for a class to be held is 2 individuals
Students taking this class should have prior experience wearing kimono. These classes do not include how to wear kimono, and teach obi-tying only. If you are interested in learning how to wear kimono, please contact the JASWDC office at info@jaswdc.org or 202-833-2210.
Each class can be registered for individually, so students can choose to register for as many classes as they like.
Students will learn a different method for tying obi at each class:
(October 17) Nagoya-obi sash using clips
(October 24) Nagoya-obi tied by hand
(October 31) Otaiko-musubi and Nagoya-obi using a kairyo-makura (tool designed to help you tie obi)
(November 7) Otaiko-musubi and Fukuro-obi using a kairyo-makura
(December 5) Kawari-musubi and Fukuro-obi using a kairyo-makura
(January 16, 2020) Kimono excursion: wear kimono and go out to dinner at a Japanese restaurant (cost of meal separate from class fee)
Any necessary kimono equipment, clothing, etc., can be purchased directly from the kimono instructor.
Instructor: Hideko Uchiyama, from the Hakubi School of Kimono
Since moving to the United States in 2013, Hideko Uchiyama has privately taught 12 semesters of kimono dressing with over 30 students graduating from her classes. She frequently plans and conducts Japanese culture events and workshops relating to kimono culture.
講師:内山 英子(うちやま ひでこ)ハクビ着物学院 教授
2013年渡米。ワシントンD.C.地区において、着付け教室を開催。現在第12期まで終了。卒業生30名以上。
着物を通じた日本文化のイベント企画・コーディネート。