Join JASWDC as we explore our next #JapanInDC feature; Daikaya! Daikaya is a popular Japanese restaurant in Washington, D.C.'s Chinatown with a bustling ramen restaurant on the first floor and a modern Izakaya on the second!
We had the pleasure of chatting with Daisuke Utagawa, part-owner of Daikaya, who shared with us the philosophy and passion behind Daikaya's creation, the characteristics of the restaurant, and its commitment to sustainable development.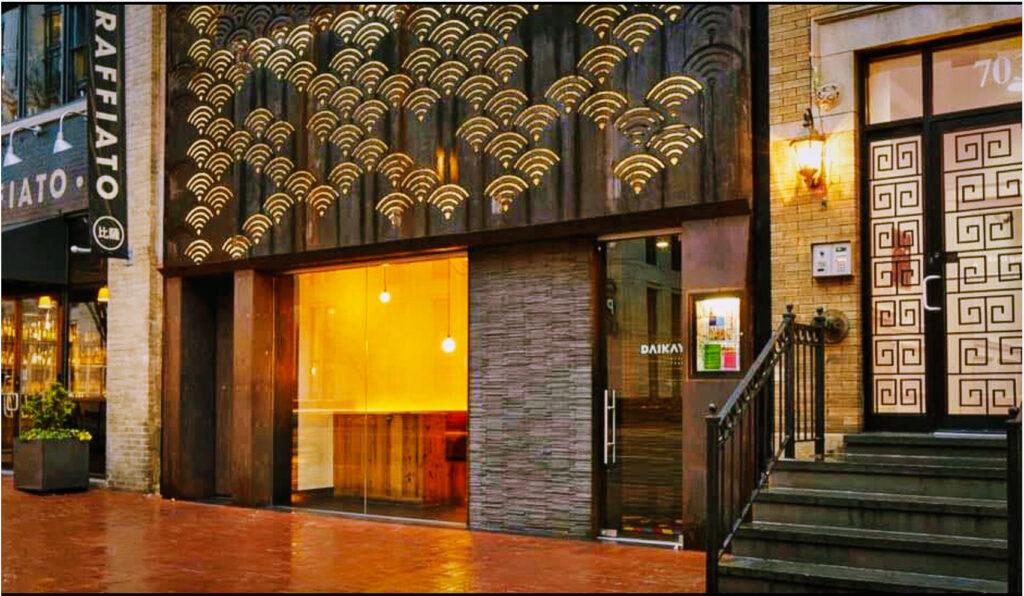 If you were to wander the streets of Tokyo at night, you would see the bright glow of dozens of Izakaya dotted along your path; Inside, the hubbub of people laughing and chatting over takoyaki, chicken, karaage, and burrata after a hard day's work. Daisuke and his partners thought: Why not recreate this experience in Washington, D.C., where people can have full supper or late-night bites with friends at night while enjoying ramen?  And so, with this goal in mind, Daikaya, a Japanese word meaning big cooking pot (大鍋屋), was founded.  The goal was to open a restaurant that highlighted familiar, soulful dishes enhanced by creative modern touches and a playful nature. The restaurant needed to have a vibrant aesthetic while maintaining the authentic feel of a Japanese Izakaya.
Inside Daikaya's Ramen Shop
Walking into the first floor of Daikaya, you are met with the familiar scene of a Japanese ramen shop: customers sit on high stools slurping bowls of rich ramen; in the open kitchen heavy pots simmer with aromatic soup stock. Daikaya serves Sapporo-style ramen, easily recognized by its rich pork base, seasoned with clear broths, curly noodles, and wok-roasted toppings. Sapporo-style ramen has the most variations among the three most well-known types of ramen in Japan, both in terms of ingredients and taste. To ensure authenticity, Daikaya's noodles are imported directly from Sapporo, made by Nishiyama Seimen Company(西山製麺).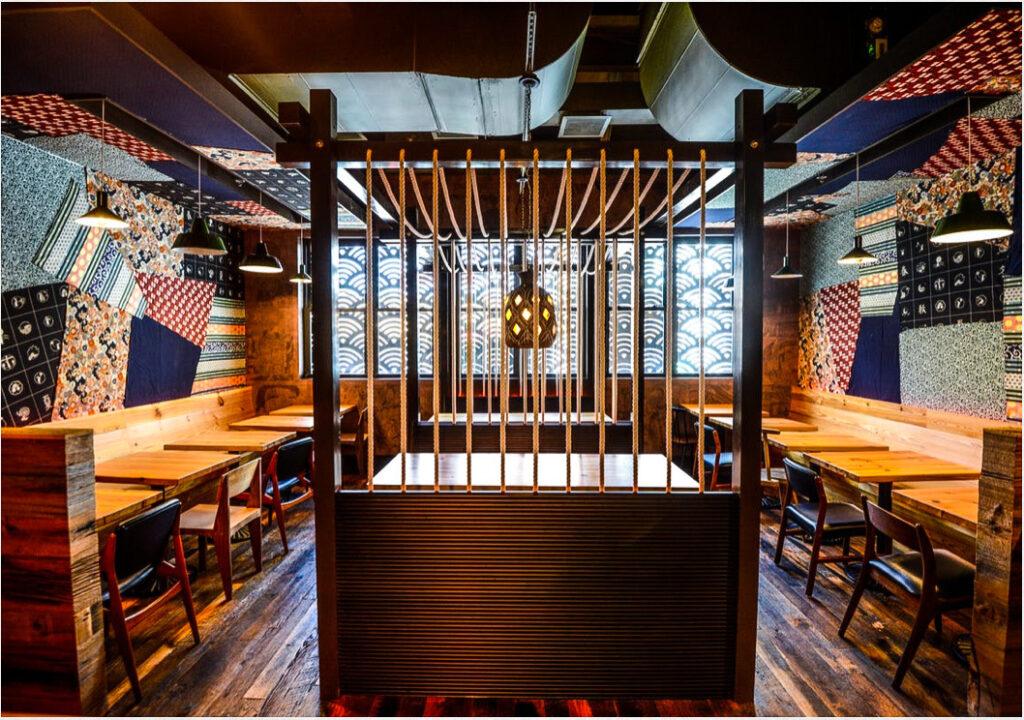 Inside Daikaya Izakaya
Walking up to the second floor, you find yourself in an old-meets-new Izakaya, where customers chat with each other over sake, cocktails, beer and creative reinventions of classic Japanese dishes. While retaining some key elements of Japanese cuisine, the Daikaya Izakaya offers delicious new pairings like grilled avocado with fresh wasabi and nori salt, or grilled Yukon potato with a generous slab of butter, salt, and soy sauce. To bring the essence of the Japanese Izakaya dining experience to Washington, D.C., Daikaya strives to share Japanese food culture with the local market as well as understanding its new customers.
"Keep the feel and spirit [of Japanese food] in the foreign markets' mentality!"

Daisuke Utagawa
Spreading Japanese food culture through education
"The more people are educated on the food, the better it is."

Daisuke Utagawa
Daikaya has long collaborated with the Smithsonian Institution in Washington, D.C. to introduce a range of courses on Japanese food culture (rigorous selection of raw materials, fine processing, unique taste bud enjoyment, etc.). It is Daikaya's mission to help more people understand and learn about Japanese food culture. Mr. Utagawa says he is very satisfied to see that more and more people have become interested in Japanese cuisine and culture through his efforts.
Social Responsibilities
As a member of the five-restaurant consortium, Daikaya hopes to promote Japanese food culture while contributing to the sustainable development of society. For example, Daikaya ships ramen ingredients from Sapporo to Washington, D.C., by sea ferry, which has a smaller carbon footprint than air freight, to minimize environmental impact. Daikaya is also working to replace traditional wooden chopsticks with recyclable bamboo chopsticks. Although there are uncontrollable factors, such as customers' concerns over the cleanliness of reusable chopsticks, the restaurant is working hard to do what it can!
Have you visited Daikaya yet? If not, now might be the perfect time! Find more information at https://www.daikaya.com/ We also welcome you to check out the other four restaurants in the consortium with Daikaya Restaurant, including Hatoba, which has Hawaiian-inspired favorites included in its offering of Sapporo-style ramen.
---
CONTACT
Twitter – @Daikayadc
Facebook – @Daikaya (Daikaya the Izakaya)
705 6th St NW, Washington, DC 20001
(202) 589-1600
Instagram – @hatobadc
Facebook – @hatoba.dc
300 Tingey Street SE #170, Washington, D.C. 20003
(202) 488-4800
Twitter – @BantamKingDC
Instagram – @bantamkingdc
501 G ST. NW, Washington, DC 20001
Facebook – @haikandc
Twitter – @HaikanDC
Instagram – @haikandc
805 V ST NW, Washington, DC 20001
(202) 299-1000
Facebook – @tonaridc
Instagram – @tonaridc
707 6th St NW, Washington, DC 20001
(202) 289-8900
---